Yamaguchi Prefecture, the west edge of Honshu, is near from Eurasian Continent and surrounded by 3 sea area; Japan sea, Hibiki-nada and Seto inland sea. It boasts of high biological diversity in the land and the sea.
About molluscs, more than 2000 species have been recorded from the surrounding of Yamaguchi, and some of them have never been recorded from other localities.
Let's enjoy the mysterious world of molluscs!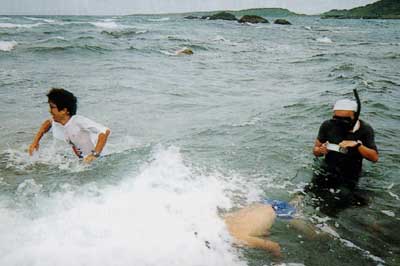 At Tsunoshima Isle., Toyokita, Yamaguchi.
(Aug. 31, 1998)